Van Nuys Senior Olympics
September 24, 2000
While America's most elite gymnasts were performing their routines in the Land Down Under at the Sydney 2000 Olympics, a group of older but equally dedicated gymnasts were competing in Van Nuys, California, at the Senior Olympics. This competition, held every year at the end of September, attracts competitors of all ages from throughout the Southern California region. On September 24 of this year, over 20 participants gathered at the L.A. Valley College gym to test their skills in artistic gymnastics and in the rope climb. Representing our class at this competition were three gymnasts who have already tested themselves in competition this year in San Diego, Camarillo and Aliso Viejo: Masako Kardos, Daneen Leidig, and Ross Shaw. All three performed well, with Daneen obtaining the highest score in the balance beam. Each captured gold medals in their respective events and in their age divisions. Congratulations to all!

It is rewarding to see so many in the middle of their lives dedicating time to improve their skills base. Our gymnastics class affords individuals the time and attention they need to set goals and attain desired skills. Through consistent practice and participation in competitions, we can all derive healthier bodies and internal mental and emotional well-being. Our facility in Aliso Viejo is a great facility where one can learn in a safe environment. In addition, our classes are geared towards making learning gymnastics fun and exciting.

Below are some photos from the competition. To save download time, most images are "thumbnail" size. You can click on the smaller photo to see a larger version.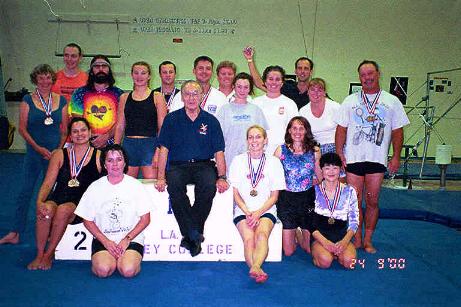 Masako and Ross in competition
Daneen competed in all four events!
[ About Fitnastiks ] [ Meet Info ] [ Our Gym ] [ Programs ] [ Photos ] [ Newsletter ]